At 1,4GROUP, we believe sustainability isn't just about what you apply, it's also how you apply it. That's why we invest in the research, development and design of innovative and improved application technologies. We are committed to helping the potato industry move towards a greener, more sustainable future.
E-Fresh® fresh air applicator: protect your stored crop with a greener, more effective, sustainable fogging solution.
At 1,4GROUP, our goal is to meet the priorities of a changing potato industry. You asked for a better fogging solution: one that solves the problem of fry discolouration and is environmentally friendly too. Enter the E-Fresh® fresh air applicator.
Traditional storage foggers use propane-, gas- or diesel-generated heat to distribute storage-enhancement products throughout a stored potato pile. Alongside the obvious risk of fire that these units' open flame produces, the key downside of propane, gas and diesel is their off-gas. Exhaust negatively impacts the environment. Too, the off-gas of some gas and propane-powered technologies, when released inside the storage building, can negatively impact fry colour, especially later in the storage season. While some newer propane units and all diesel units vent outside to protect fry colour, eliminating exhaust altogether is a much more 'green', environmentally responsible option.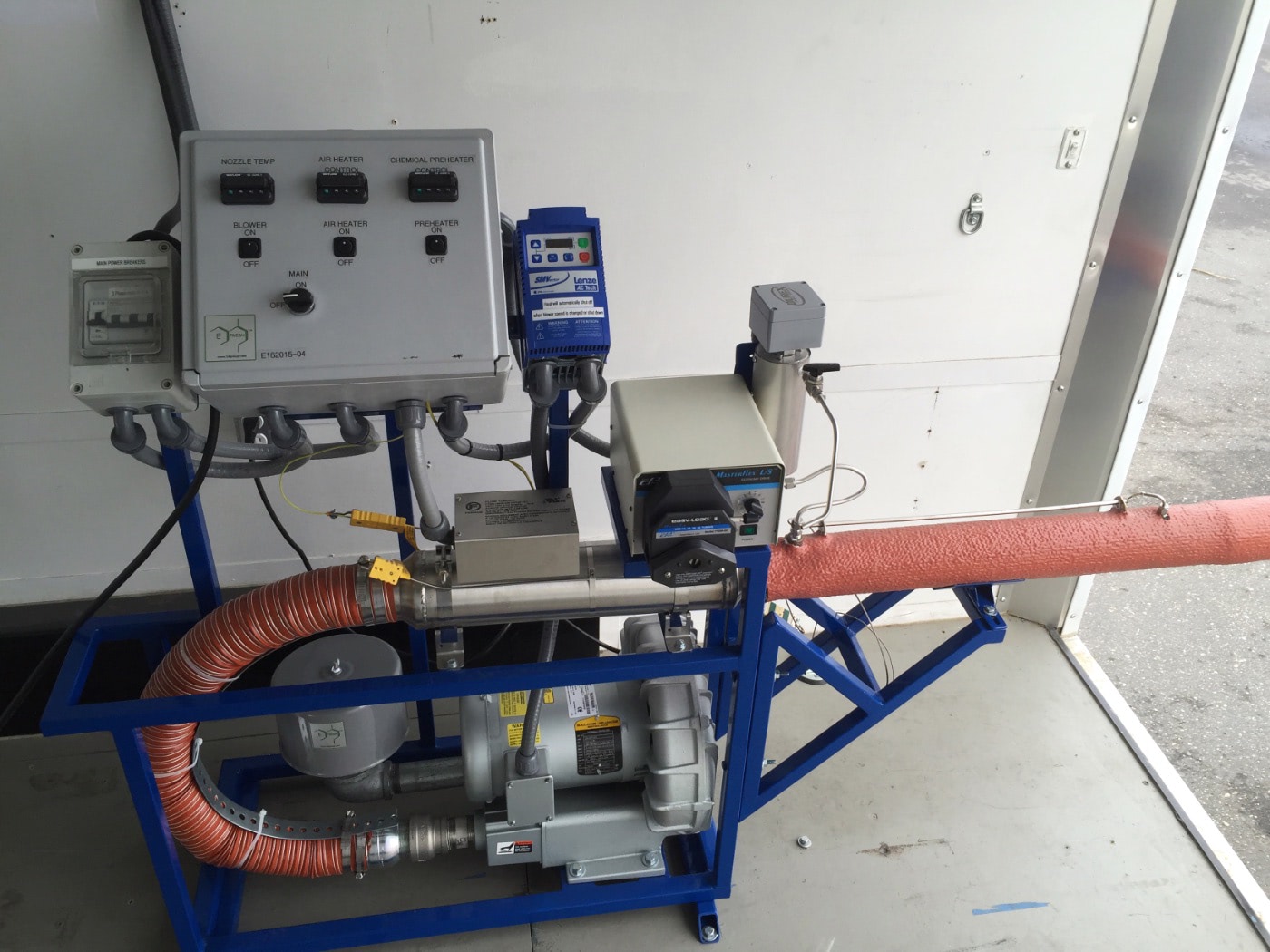 The E-Fresh® fresh air applicator is the only storage product fogging applicator available in North America today that offers entirely clean heat. Run on electrical power rather than propane, gas or diesel, the E-Fresh® applicator produces no off-gas, protecting processing and chipping potatoes from colour shifting and reducing potato storage's impact on the environment too.
The E-Fresh® applicator also produces better distribution of product throughout a storage and less loss of product to outside the storage. An E-Fresh® fogger's particle size is much smaller than what a traditional fogger can produce, leading to more even and effective application throughout a pile. And, because an E-Fresh® machine is more efficient, it requires less air to achieve an effective application. Less air means less pressurization inside the storage, allowing the product to stay in the storage and on the potato where it belongs rather than leaking outside the building.
The E-Fresh® applicator is as effective as a conventional machine at fogging all sprout inhibitors including CIPC, all 1,4-DMN products, 1,4Zap®, and more. Recently, custom applicators have also begun to use E-Fresh® units to fog disinfectant products.
THE WAY OF THE FUTURE,
AVAILABLE TODAY
E-Fresh® has been available in North America since 2014 and is quickly gaining popularity. Some processing companies now require that the chipper potatoes they buy in certain provinces be treated with fresh air machines rather than traditional units. All of 1,4GROUP's Canadian distributors have converted to E-Fresh® units.
If a greener, more environmentally friendly option that protects your chippers' and French fries' colour is important to you, ask your custom applicator for E-Fresh®.